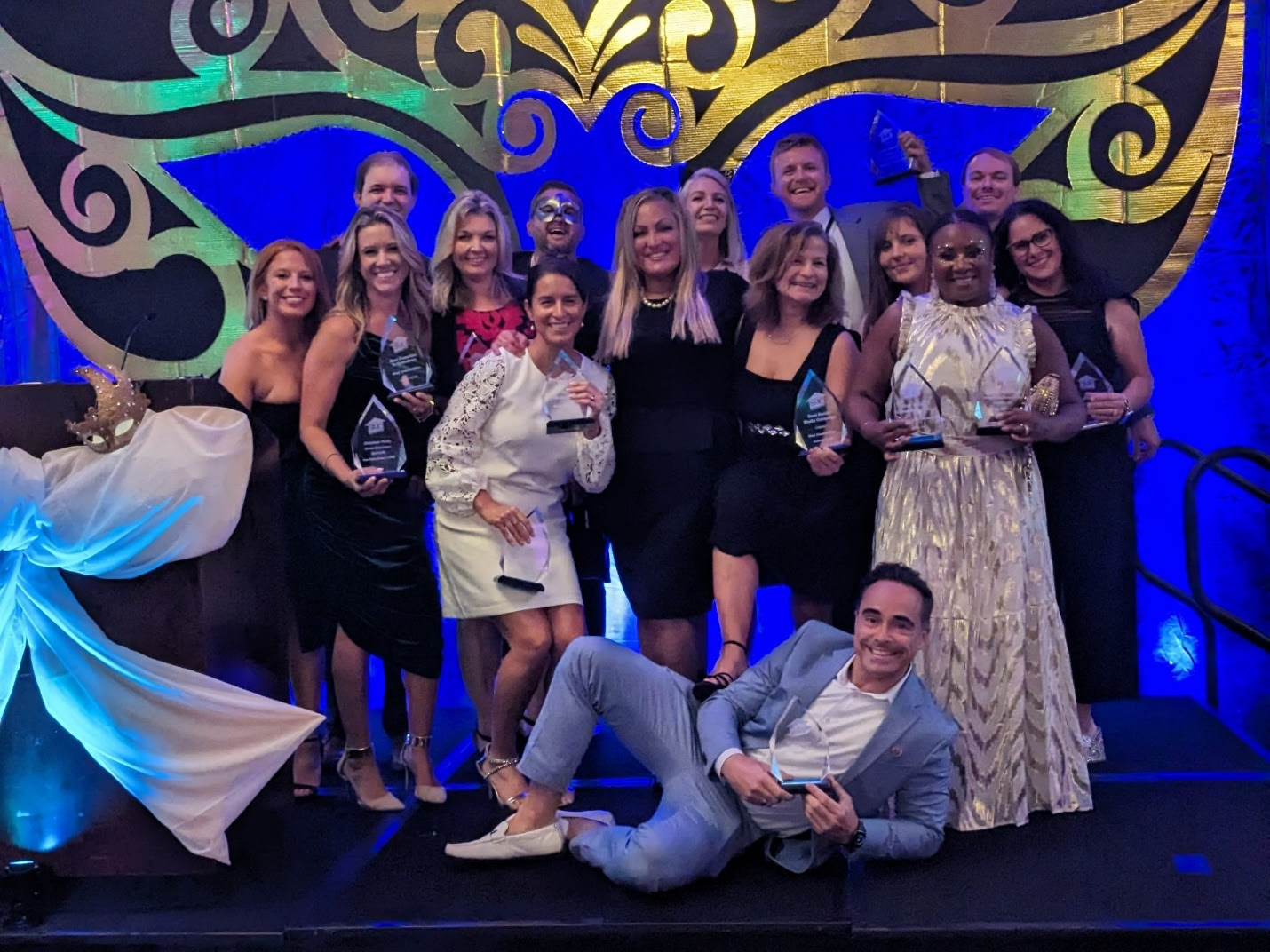 The Neal Communities and Neal Signature Homes marketing and team sales team celebrating success at the Manasota-Sarasota Building Industry Association Awards.
LAKEWOOD RANCH, FL (Sept. 26, 2023) – Neal Communities, the area's largest private homebuilder, and Neal Signature Homes were honored with six marketing awards and 19 sales awards in the 2023 SMC Celebration of Excellence Awards presented by the Manatee-Sarasota Building Industry Association (MSBIA). The awards, selected by MSBIA's Sales and Marketing Council, recognize outstanding achievements in sales and marketing in the local building industry.
For the marketing awards. Neal Communities was awarded Best Direct Mail Ad, Best Video – Social Media Video, Best Social Media Campaign and Best Promotion to Consumers. Neal Signature Homes was awarded Best Video – Corporate/Website Video and Best Logo.
The MSBIA also honored 19 of Neal Communities salespersons and sales managers with awards. Bronze Awards for sales from $1-10 million went to Steve Goodwin, Kathy Lane, Christina Potts, Mary Quaid, David Sanvidge, Aaron Solari, Vanessa Wisnowski and Ryan Zimmerman. Silver Awards for sales from $10-15 million went to Dawna Bruner, Connie Chase, Bradley Jackson and Joe Jones. Gold Awards for sales from $15-25 million went to James Archibald, Bert Desmond, Valerie Fox and Jon McClay. Diamond Awards for sales over $50 million were presented to Christina Sadler for online sales and to sales managers MaryAnn Koops and Elayne McKinney.
The Masquerade Ball-themed event was held Sept. 14 at the Hyatt Regency Sarasota with Maverick and Lulu of iHeartRadio Sarasota, Suncoast Country 92.1 and 103.5 CTQ serving as masters of ceremony.
"It's so rewarding to see our sales and marketing team recognized for the stellar work they do," said Carlos Puente, vice president of sales and marketing for Neal Communities. "We could not be more proud and appreciative of these awards recognizing their achievements.."
Neal Communities has been building homes in Southwest Florida for more than 50 years and has received numerous awards. Their customer service, commitment to quality and elegant floor plans make them one of the most sought-after home builders in the area.
MSBIA is a networking and advocacy group for the building, construction, development and associated industries in Manatee and Sarasota counties.
For more information about Neal Communities, visit www.NealCommunities.com.
About Neal Communities
Neal Communities, based in Lakewood Ranch, Florida, is Southwest Florida's largest and most established locally owned and operated private builder. During the company's 50-year history, it has built more than 20,000 new homes in more than 90 acclaimed communities from Tampa to Naples. The company consistently ranks among the nation's top 100 home builders and has earned numerous awards including the prestigious Builder of the Year from Professional Builder in 2015 and America's Best Builder in 2012 from BUILDER Magazine. With a core belief that "Where You Live Matters," Neal Communities has given more than $7.75 million to local charities throughout Southwest Florida and is committed to the communities where they live, work and build. Company sales in fiscal year 2022 were just over $600 million.
Additional Neal Communities brands include Neal Signature Homes, SimplyDwell Homes, Charlene Neal PureStyle, Waterscapes Pools & Spas, Neal Communities Funding and Allegiant Title Professionals. For more information, visit NealCommunities.com.
Manasota-Sarasota Building Association Awards presented to Neal Communities and Neal Signature Homes