Upcoming Events at The FHM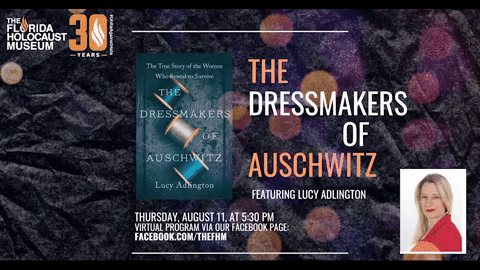 "The Dressmakers of Auschwitz The True Story of the Women Who Sewed to Survive" Featuring Author, Lucy Adlington
This title powerfully chronicles the stories of the women who used their sewing skills to survive the Holocaust, stitching beautiful clothes in an extraordinary fashion workshop within the Auschwitz concentration camp. At the height of the Holocaust, 25 young inmates of the infamous Auschwitz-Birkenau death camp – mainly Jewish women and girls – were selected to design, cut, and sew beautiful fashions for elite Nazi women in a dedicated salon. It was work that they hoped would spare them from the gas chambers.
This fashion workshop – called the Upper Tailoring Studio – was established by Hedwig Höss, the camp commandant's wife, and patronized by the wives of SS guards and officers. Here, the dressmakers produced high-quality garments for SS social functions in Auschwitz, and for ladies from Nazi Berlin's upper crust. Drawing on diverse sources – including interviews with the last surviving seamstress – "The Dressmakers of Auschwitz" follows the fates of these brave women.
Thursday, August 11 at 5:30 pm virtual program via our Facebook page: www.facebook.com/TheFHM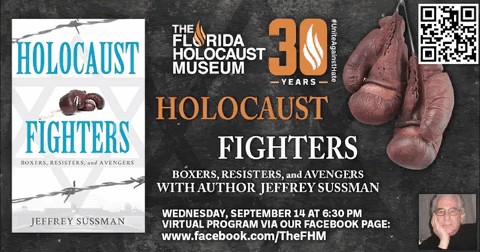 "Holocaust Fighters: Boxers, Resisters, and Avengers" With Author Jeffrey Sussman
Jeffrey Sussman is the author of 15 non-fiction books. His most recent book is "Holocaust Fighters: Boxers, Resisters, and Avengers." He has also written about the history of Jewish boxers in America. Sussman's book about Max Baer, the partially Jewish boxer, is being made into a movie and should be released in 2024. While a college student, Jeffrey worked part-time with Nobel prize author Isaac Bashevis Singer. Jeffrey lives with his wife, Barbara, and dog, Archie, in New York City.

Wednesday, September 14 at 6:30 pm virtual program via our Facebook page: www.facebook.com/TheFHM
"The Ones Who Remember: Second-Generation Voices of the Holocaust" Panel Discussion with Ava Adler, Rita Benn, Joy Wolfe Ensor, and Ruth Finkle Wade
This title provides a window into the experiences of 16 different families grappling with the legacy of genocide. Each author reveals the many ways their parents' Holocaust traumas and survival seeped into their souls and then affected their subsequent family lives – whether they knew the bulk of their parents' stories or nothing at all. Despite the diversity of each family's history and journey of discovery, the intimacy of the collective narratives reveals a common arc from suffering to resilience across the generations.
This book offers a vision of shared humanity against the background of inherited trauma that is relatable to anyone who grew up in the shadow of their parent's pain.
Wednesday, October 12 at 6:30 pm in-person at The FHMRSVP Today!The Richard Rappaport Family Antisemitism Lecture Series
SAVE THE DATE! Tuesday, October 27 at 6:30 pm RSVPs are required Did You Know Members of The FHM Enjoy Benefits Through Our Reciprocal Program?The Following institutions welcome our members as one of their own:
February – The James MuseumFebruary, May, August, and November – MOTE Marine Aquarium May and November – Marie Selby Botanical GardensJanuary through December – MOSI January through December – Polk Museum of Art January through December – Bok Tower Gardens (50% off admission) January through December – The Florida Aquarium (50% off admission) CLICK HERE to become a member today!
It's recommended that you contact the institution before visiting to confirm any limitations. Be prepared to present a photo ID and your FHM Membership card to receive reciprocal benefits. 
Additional funding provided by:
This project is sponsored in part by the State of Florida, Department of State, Division of Cultural Affairs and the Florida Council on Arts and Culture, and the National Endowment for the Arts (Section 286.25, Florida Statutes).
Become a Member
Events Calendar
Plan Your Visit
The Florida Holocaust Museum | 55 Fifth Street South, St. Petersburg, FL 33701